Part 1:
re:Invent 2020 – One of the most exciting events of Amazon Web Services in 202o and the biggest cloud computing event of the year has begun.
Due to Covid 19, the entire re:Invent 2020 will be held online. A free, 3-week virtual conference from Nov 30th – Dec 18. Yesterday was the first day of the event, Andy Jassy – CEO of Amazon Web Services – had a session to introduce the launch of the new AWS services in 2021. Andy started the session with Gartner Worldwide IaaS and PaaS market segment share. 
AWS is still the leading provider with 45% of the global market share, doubled its rival Microsoft. Interestingly, Alibaba cloud is now 2 times bigger than Google Cloud Platform on the market share.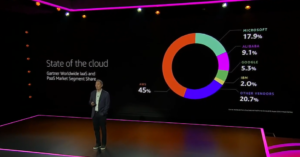 And of course no keynote in 2020 would be complete without mentioning Covid – Andy confirmed that Covid has accelerated cloud adoption by several years.
Missed the event? Here are 20 highlight product launch announcements:
1. Habana Gaudi Based Amazon EC2 Instances – H1 2021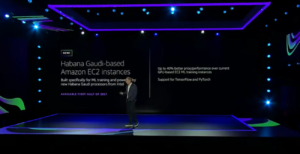 Habana Gaudi Based Amazon EC2 Instances will be available in first half of 2021
Built for Machine Learning training and powered by Intel – Habana Gaudi, these instances will offer: 
Up to 40% better price/performance over current GPU based EC2 ML training instances
TensorFlow and Pytorch supported
2. AWS Trainium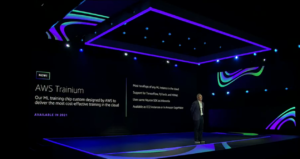 AWS Trainium – an ML training chip designed by Amazon Web Services  to deliver the most cost-effective training in the cloud.  AWS Trainium will be generally available in 2021:
The most teraflops of any ML instance in the cloud
Support for Tensorflow, Pytorch and MXNet
Uses same Neuron SDK as Inferentia
Available as EC2 instances or in Amazon Sagemaker
3. Amazon ECS Anywhere
Amazon ECS anywhere will offer the same AWS-style ECS APIs, cluster management, workload scheduling and monitoring. Amazon ECS Anywhere will be available in 2021
Works on any infrastructure
Seamless ECS experience across AWS and your on-premises infrastructure
4. Amazon EKS Anywhere
Amazon EKS Anywhere will offer the same EKS Experience to set up, upgrade and operate on-premises Kubernetes clusters.
Works on your current infrastructure
Seamless EKS experience across AWS and your on-premises infrastructure
Amazon EKS Distro is an open sourced
5. Lambda Container Support

Lambda Container support is ready to use today.  Lambda Container Support enables AWS customers to build Lambda based applications using existing container development workflows:
Package code and dependencies as a Docker or Open Container Initiative compatible container images.
 A consistent set of tools for containers and Lambda based applications
Deploy Lambda functions built on top of this party base container images
6. AWS Proton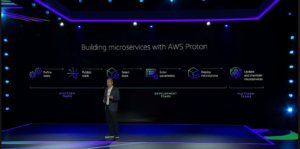 Help you in Building Microservices
Platform teams can: Define Stack, Publish Stacks
Development Teams can: Select Stacks, Enter Parameter, Deploy Microservices
Platform Teams can: Update and maintain microservices
7. GP3 Volume for EBS – Generally Available (GA)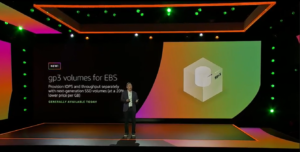 Ready to use from Dec 1 st – gp3 volumes for EBS will enable users to provision IOPS and throughput separately with next -generation SSD volumes, with 20% lower price per GB.
 gp3 Volumes for EBS will offer
1,000MB/s peak throughput
Sustained baseline performance of 3,000 IOPS per volume and 125MB/s
8. IO2 Block Express – In Preview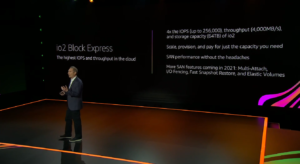 In preview from Dec 1st, io2 Block Express is the first SAN built for the cloud, with the highest IOPS in the cloud.
IO2 Block Express will deliver:
4 x the IOPS (up to 256,000) throughput (4,000MB/s)and Storage capacity (64TB) of io2
Scale, provision, and pay just for the capacity you need
SAN performance without the headaches
More SAN features coming in 2021: Multi-Attach, I/O Fencing, Fast Snapshot Restore, and Elastic Volumes
9. Amazon Aurora Serverless V2 – in preview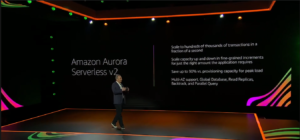 Amazon Aurora Serverless V2, available in preview from Dec 1st, scales to hundreds of thousands of transactions in a fraction of a second:
Scale capacity up and down in fine-grained increments for just the right amount the application requires
Save up to 90% vs provisioning capacity for peak load
Multi AZ support, Global Database, Read Replicas, Backtrack, and Parallel Query
10. BabelFish For Aurora PostgreSQL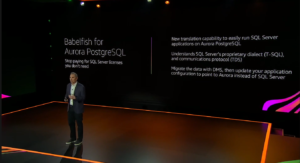 Babelfish for Amazon Aurora PostgreSQL is of of the most exciting news, a major plus, you can stop paying for SQL server licenses you don't need.
New translation capability to easily run SQL server applications on Aurora PostgreSQL
Understands SQL Server's proprietary dialect (T-SQL) and communications protocol (TDS)
Migrate the data with DMS, then update your application configuration to point to Aurora instead of SQL Server
Coming in 2021, Babelfish for PostgreSQL is an open source project, using the Apache 2.0 License.
Makes the source code available to add new features
Available in GitHub in 2021
(Please continue to read Part 2 here)
About VTI Cloud
VTI Cloud là Đối tác cấp cao (Advanced Consulting Partner) của AWS, với đội ngũ hơn 50+ kỹ sư về giải pháp được chứng nhận bởi AWS. Với mong muốn hỗ trợ khách hàng trong hành trình chuyển đổi số và dịch chuyển lên đám mây AWS, VTI Cloud tự hào là đơn vị tiên phong trong việc tư vấn giải pháp, phát triển phần mềm và triển khai hạ tầng AWS cho khách hàng tại Việt Nam và Nhật Bản.
Xây dựng các kiến trúc an toàn, hiệu suất cao, linh hoạt, và tối ưu chi phí cho khách hàng là nhiệm vụ hàng đầu của VTI Cloud trong sứ mệnh công nghệ hóa doanh nghiệp.
Ngoài ra, VTI Cloud có hỗ trợ xây dựng cộng đồng VIET-AWS. Đây là một trong các nhóm AWS User Groups phát triển nhanh chóng và được Amazon công nhận trong khu vực Asia Pacific (Việt Nam).
VIET-AWS là nơi kết nối, trao đổi hỗ trợ giữa các bạn Solutions Architect, DevOps, SysOps và các bạn sinh viên mới chập chững tiếp xúc dịch vụ điện toán đám mây của Amazon Web Services (AWS). Cùng VTI Cloud tham gia VIET-AWS: https://www.facebook.com/groups/vietawscommunity