About Veeam
VTI CLOUD PARTNERS

Veeam provides solutions that enable businesses to build a productive working environment, saving time, costs, operating, minimizing risks, and promoting at full capacity. Veeam ensures that data is always available, protected, and active for businesses around the globe.
Regardless of customer data – in virtualization, physics, SaaS, or IaaS services, hybrid cloud or multi-cloud – Veeam's platform will help hundreds of thousands of companies keep their businesses running before disasters.
Veeam currently has more than 70,000 professional partners and more than 400,000 clients with headquarters located in Baar, Switzerland, and has many offices worldwide.
Straight 04 years of Leader
By Gartner Magic Quadrant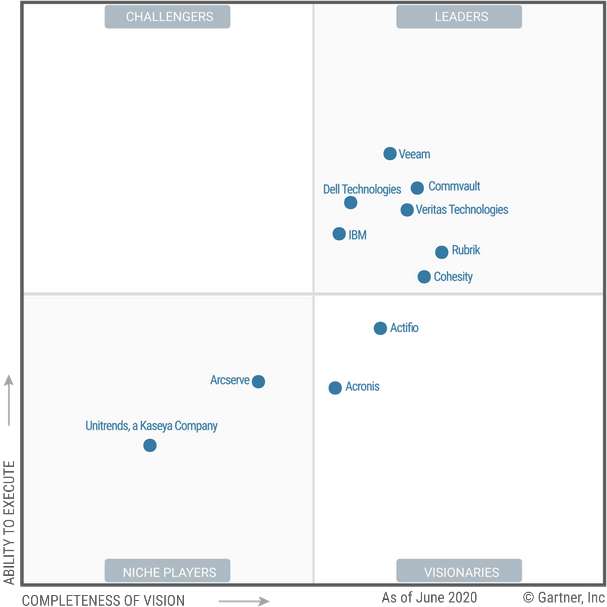 Data Center Backup and Recovery Leader
Veeam has been rated by Gartner as the Leader for 04 consecutive years in Magic Quadrant for Data Center Backup and Recovery Solutions. Particularly in 2020, Veeam ranked highest in the Magic Quadrant rankings.
According to Gartner, Veeam is considered to be one of the most efficient and reliable backup solutions they have ever integrated.
3-2-1 rule
Veeam backup rule
Maintain at least 3 copies of data
Store backups on 2 different media
Store at least 1 of the copies in an external location
Store at least 1 of the copies offline
Make sure there are verified backups with zero (0) error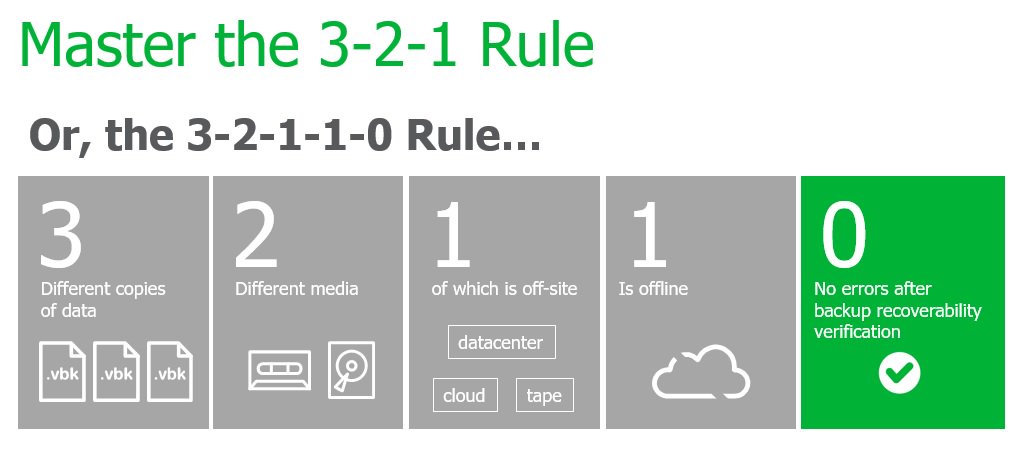 AWS & Veeam
THE PERFECT COMBINATION
Reliable backup
Securely replicate The mobility of the cloud Reliable backups every workload, achieves shorter backup times, and reduces operating costs with unslleled flexibility.
Secure replication
Use image-based replication and appropriately arranged disaster recovery to increase speed, security, and availability.
Cloud mobility
Migrate or restore any workloads to AWS with features that keep your backups safe from attack.
Authorized Partner of Veeam
in Vietnam - VTI Cloud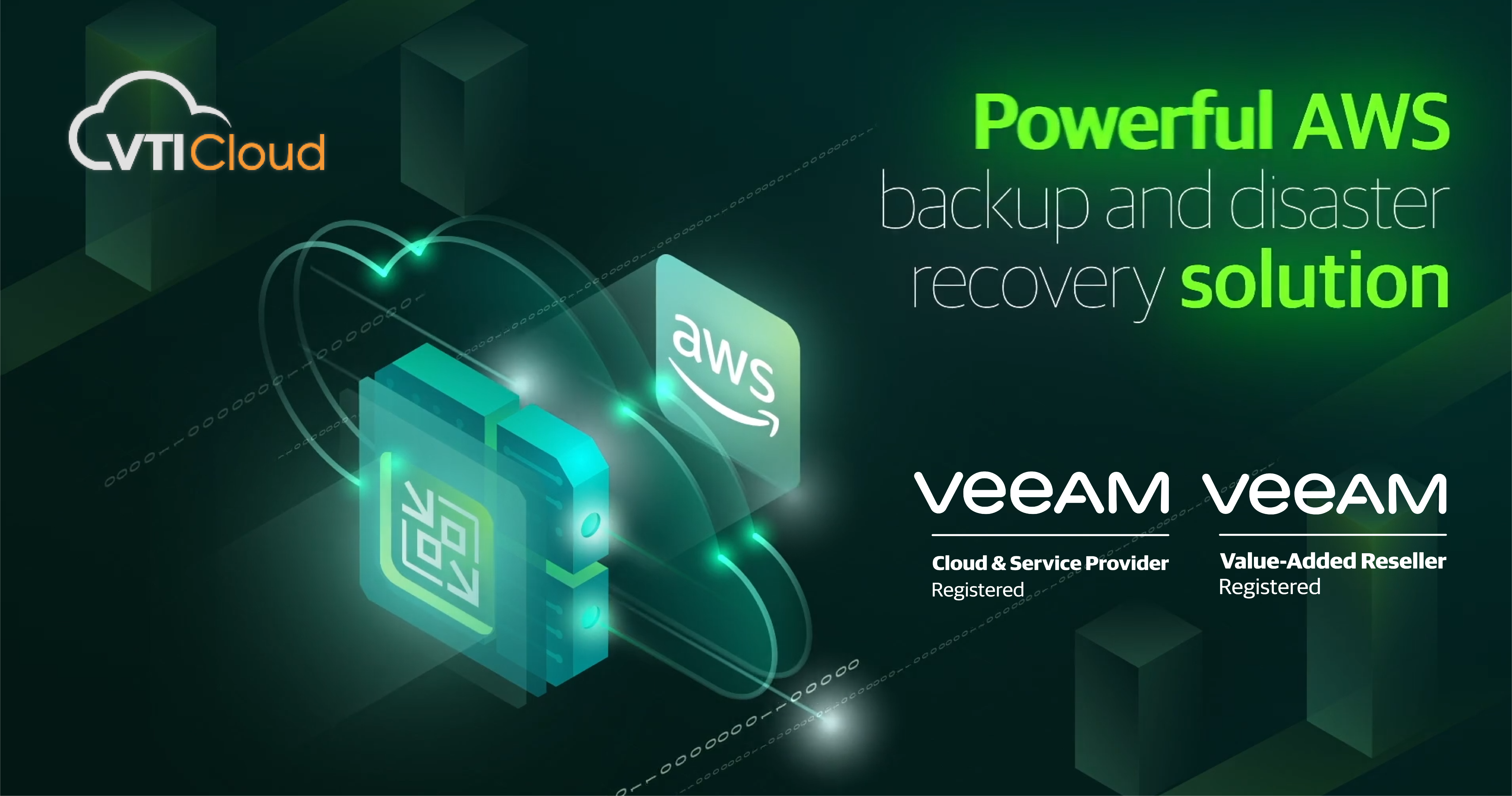 Veeam & VTI Cloud
As of 2021, VTI Cloud has officially become Veeam's strategic partner in Vietnam (Cloud & Service Provider and Value-Added Reseller) in providing solutions to AWS cloud services.
Understanding the importance of enterprise data and migration to the cloud, VTI Cloud will rely on Veeam's technology to provide customers with solutions capable of managing data and broad visibility/control, and extensive coordination to facilitate disaster recovery (DR).
Read more: https://vticloud.io/en/news_events/vti-cloud-chinh-thuc-tro-thanh-cloud-service-provider-cua-veeam-tai-viet-nam/
Tripartite cooperation
Veeam - VTI Cloud - AWS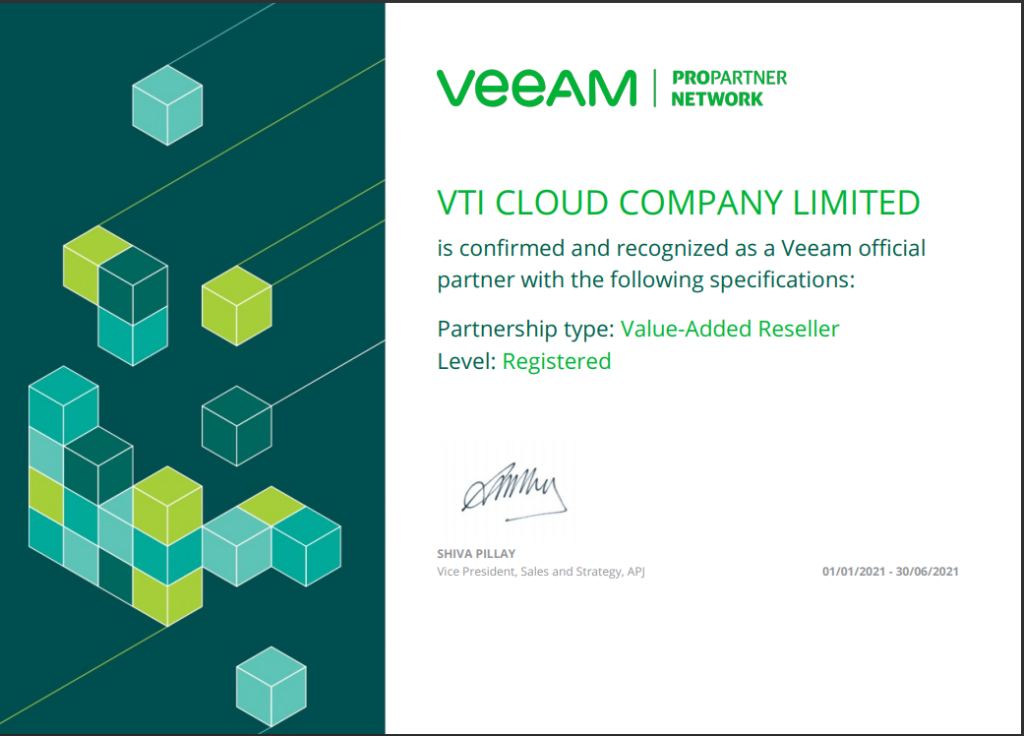 Value-Added Reseller
Taking advantage of Veeam's Value-Added Reseller technology and program, VTI Cloud has the ability to build a comprehensive solution suite, serving a wide range of customers from On-premises to AWS and other cloud services.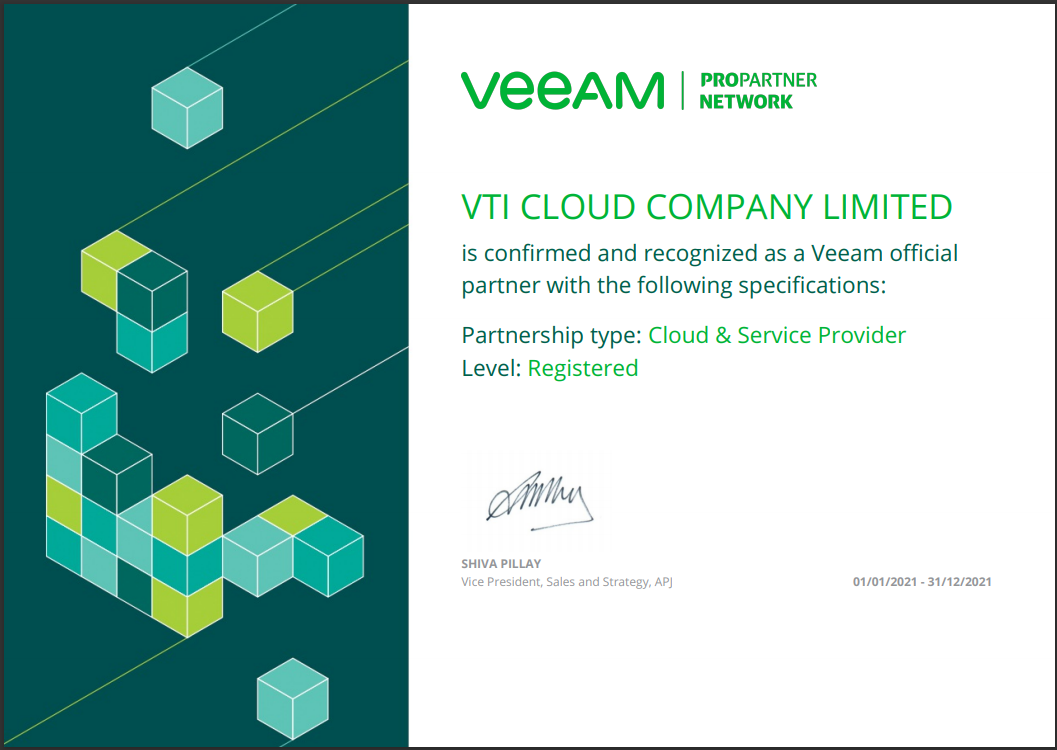 Cloud & Service Provider
By working together, VTI Cloud can leverage Veeam solutions and the advantages of AWS to build reliable backup and disaster backup solutions and services such as Backup as a Service (BaaS) and Disaster. Recovery as a Service (DRaaS).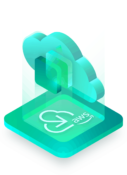 Amazon EC2 backup
Cloud-native, cost-effective and secure Amazon EC2 backup and Amazon EC2 disaster recovery (DR) to overcome ANY cloud data loss in minutes.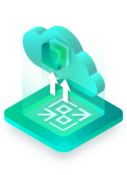 Restore and migrate to AWS
Gain new recovery options and maintain business continuity with just two steps to restore ANY on-premises workload to AWS.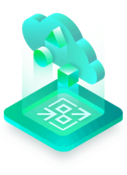 Long-term retention in AWS
Leverage Amazon S3 as an extension of your data center for unlimited capacity long-term data retention, as well as Virtual Tape Library (VTL) support.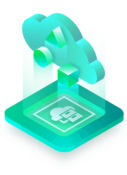 Back up Office 365 to AWS
Utilize cost-effective and unlimited storage capacity of Amazon S3 object storage as a target for Veeam Backup for Microsoft Office 365 backups.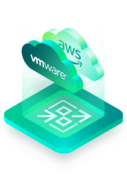 VMware Cloud on AWS
As enterprises embrace a multi-cloud strategy, the availability of data and applications becomes critical to help fuel innovation and competitive advantage. Extend the same Veeam solutions used on-premises to VMware Cloud on AWS to simply, efficiently, and seamlessly protect workloads across all clouds.
Contact VTI Cloud
FOR CONSULTANCY ON Veeam
VTI Cloud contact information
 6F, AC Building, 78 Duy Tan, Cau Giay, Hanoi
 Serepok Tower 56 Nguyen Dinh Chieu, District 1, HCMC
 +84-24-73068883
 [email protected]