Following part 1 of article 20 most exciting services introduced in AWS re:Invent 2020, here are the next 20 outstanding services shared in the keynote session on December 1st.
In the next highlights, AWS will focus on promoting services that support the development of Machine Learning, IoT, and customer care support services. AWS did a very good effort in updating new features and services in re:Invent 2020.
Join VTI Cloud to learn more about 20 outstanding services (continued) that AWS re: Invent 2020 offers customers:
11. Amazon S3 Replication adds support for multiple destinations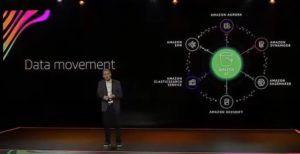 S3 Replication (multi-destination) supports creating shared datasets by copying data to multiple buckets within the same or different AWS Regions. Use S3 Replication to push software installation files to multiple AWS Regions to reduce latency and minimize the deployment time.
S3 Replication (multi-destination) is an extension of S3 Replication and will support all existing S3 Replication features such as S3 Replication Time Control (S3 RTC), Replication metrics and notifications, and delete copy marker. The S3 Management Console, SDK, API, or AWS CloudFormation can be used to create S3 (multi-destination) Replication rules from a bucket source to multiple destination buckets.
12. Amazon SageMaker Data Wrangler – Generally Available (GA)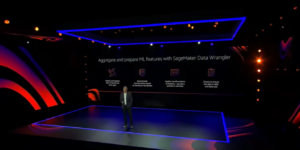 Amazon SageMaker Data Wrangler is a feature of SageMaker Studio that provides an end-to-end solution for data entry, preparation, transformation, functionality, and analysis.
Data Wrangler Data Flow is used to integrate into machine learning workflows, simplifying and streamlining data pre-processing and feature engineering data pre-processing, regardless of coding. You can also add Python scripts to customize the Data Wrangler's data preparation workflow.
Amazon SageMaker Data Wrangler is the fastest way to prepare machine learning data. Some key information:
Enter and verify data to identify data types
Recommend transformations based on the data in the data set
Apply Toggle for features – real-time preview can be used
Check to make sure the data is valid and balanced
13. Amazon SageMaker Feature Store – In Preview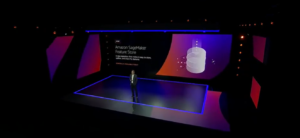 Amazon SageMaker Feature Store is a new repository that makes it easy to store, update, and share Machine Learning features. Amazon Sagemaker Feature Store is purposefully built and accessible from SageMaker Studio:
Easily name, organize, find and share features
Access features in batch or subnet
Low latency for the inference step
14. Amazon SageMaker Pipelines – Generally Available (GA)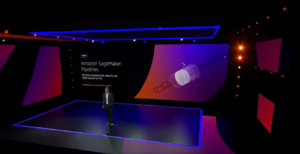 Amazon SageMaker Pipelines is AWS's first attempt at building a CI / CD service for the Machine Learning (ML) array.
Amazon SageMaker Pipelines provide data processing processes for ML:
Identify each step in the end-to-end process model of ML
Pre-configured, customizable workflow templates
Record each step (logs) in SageMaker Experiments
Workflow can be shared and reused
15. AWS Glue Elastic Views – In Preview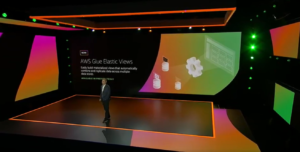 AWS Glue Elastic Views is a new AWS Glue feature that makes it easy to create specific interfaces to combine and replicate data across multiple data warehouses without having to write custom code.
With AWS Glue Elastic Views, you can use familiar Structured Query Language (SQL) to quickly create a virtual table – a materialized view – from a variety of source data stores.
AWS Glue Elastic Views copies data from each source data warehouse and makes a copy in the target data warehouse. AWS Glue Elastic Views continuously monitors changes to the data in your source data store and automatically provides updates to the materialized views in your target data warehouse, ensuring securing data accessed through an up-to-date materialization view.
16. Amazon DevOps Guru – In Preview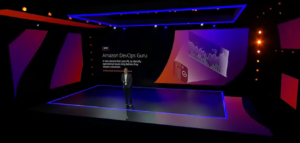 Amazon DevOps Guru is a fully managed operations service that makes it easy for developers and operations engineers to improve application availability by automatically detecting operational issues and recommending builds. fix errors in system operation before they affect the customer.
DevOps Guru applies machine learning to automatically collect and analyze data such as application metrics, logs, and events to identify behavior that is different from normal operating models.
Amazon DevOps Guru can automatically detect problems and suggest actions:
Alerts are missing or incorrectly configured
Early warning about upcoming resource limits
Code and configuration changes can cause errors
Under-provisioned computing capabilities
Database I / O overuse
Memory leak
17. Amazon QuickSight Q – In Preview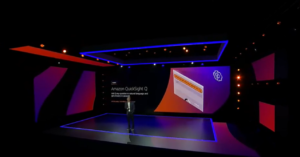 Amazon QuickSight Q is a new capability of Amazon QuickSight. Q is a machine learning-powered natural language ability that allows business users to question all of their data in everyday business language and get answers in seconds.
For example, a user just needs to enter "what is our annual growth rate" and get an immediate reply in QuickSight in the form of a visualization.
With Amazon QuickSight Q:
Enter your question in the search bar
Use NLP to understand a domain-specific business language
Automatically generate data models that understand the meaning and relationships of the data
Not limited to a specific set of questions
18. Amazon Monitron – Generally Available (GA)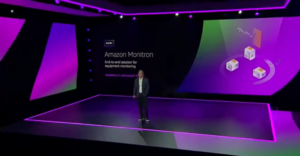 Amazon Monitron includes sensors to collect vibration and temperature data from a device, a gateway device to securely transmit data to AWS, a Monitron service that analyzes data to identify any data. machine-learning using Machine Learning and a companion mobile application to set up the device and receive reports on operating behavior and warnings about potential malfunctions in the machine.
Can initiate device health monitoring in minutes without any development work or ML experience and enable predictive maintenance with the same technology used to monitor devices in Amazon Fulfillment Centers.
19. AWS Outposts For Any Location – 2021 (Hybrid Cloud with re:Invent 2020)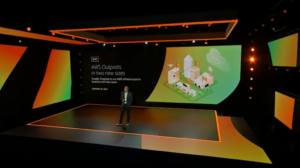 Coming soon in 2021, AWS Outposts will be released in two new formats. AWS customers will no longer need to purchase an entire AWS rack to run Outposts (the original AWS Outposts service) – it will now be available in 1U and 2U formats – basically AWS servers.
Run compute resources and host AWS on-premises in any infrastructure
Two sizes to accommodate locations with limited space
Provides 64 vCPU, 128GB storage, 4TB local NVMe storage
Fully managed by AWS
20. AWS Local Zones mới – Soon (updated in re:Invent 2020)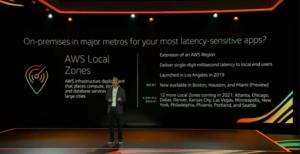 Introduced at re:Invent 2019, AWS local areas will be expanded to more US locations. AWS Local Zones is a regional extension that provides one-digit millisecond latency to local end-users.
AWS Local Zones is available in LA, Boston, Houston and Miami
12 more Local Zones coming soon: Atlanta, Chicago, Dallas, Denver, Kansas City, Las Vegas, Minneapolis, New York, Philadelphia, Phoenix, Portland and Seattle
Let's see the next events in the series re:Invent 2020 here
Go back to Part 1 to read the previous updates of re:Invent 2020.
About VTI Cloud
VTI Cloud is an Advanced Consulting Partner of AWS Vietnam with a team of over 50+ AWS certified solution engineers. With the desire to support customers in the journey of digital transformation and migration to the AWS cloud, VTI Cloud is proud to be a pioneer in consulting solutions, developing software, and deploying AWS infrastructure to customers in Vietnam and Japan.
Building safe, high-performance, flexible, and cost-effective architectures for customers is VTI Cloud's leading mission in enterprise technology mission.