About MongoDB
As demand for cloud-native applications increases, as well as requirements and challenges from processing data volumes for analytics. Cloud and NoSQL application bases are an important piece of the puzzle in the process of digital transformation and application modernization of businesses.
MongoDB has become the no. 1 choice for NoSQL devotees, especially in the cloud era. MongoDB has been trusted by millions of users worldwide.
MongoDB Atlas – or MongoDB cloud is a global cloud-based service for applications designed to meet modern needs and develop pure cloud applications.
Managed MongoDB on AWS is highly automated, experimentally proven to ensure availability, scalability, and compliance with data security standards.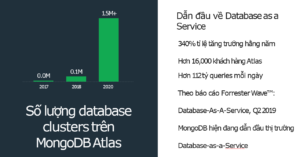 With the advantages and benefits, MongoDB Atlas has been leading in the field of Database as a Service with an annual growth rate of more than 340%, more than 160,000 customers, more than 112 billion queries per day. Large enterprises in the world such as Sega, Nationwide, 7-Eleven, Ulta Beauty, Otto Group have also trusted and used MongoDB's services.
VTI and MongoDB partnership
By becoming an official authorized partner of MongoDB (Value Added Reseller) in Vietnam, VTI Cloud will improve solutions related to NoSQL database systems, aiming for more comprehensive solutions for customers. In addition, MongoDB will also have training support programs specifically for partners, providing solutions as well as tools to reach the market.
The cooperation between MongoDB and VTI Cloud will bring better support to customers who are using MongoDB products in Vietnam. Besides, MongoDB will cooperate with VTI Cloud to organize training sessions, workshops for software development teams and businesses using MongoDB. In the near future, the cloud community, and Mongo DB products will receive more support and collaboration activities between MongoDB and VTI Cloud.
About VTI Cloud
VTI Cloud is an Advanced Consulting Partner of AWS Vietnam with a team of over 50+ AWS certified solution engineers. With the desire to support customers in the journey of digital transformation and migration to the AWS cloud, VTI Cloud is proud to be a pioneer in consulting solutions, developing software, and deploying AWS infrastructure to customers in Vietnam and Japan.
Building safe, high-performance, flexible, and cost-effective architectures for customers is VTI Cloud's leading mission in enterprise technology mission.